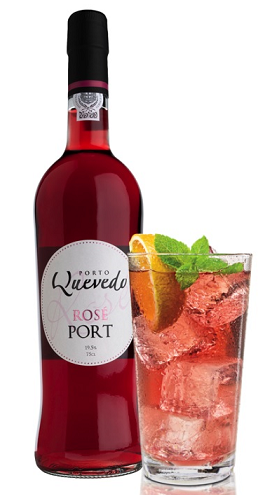 (Port)Wine of the month June 2015: Quevedo Rose Port
The first one to approach the market with a Rose or "Pink" Port was Croft in 2007. After receiving the initial laughter from the rivals you hardly find one without a Rose Port in their current Portfolio these days. Rose Ports are always "Entry-level Ports" and should be enjoyed chilled, optional with a frozen strawberry or raspberry or as a Cocktail. Please pay attention to the producer since there are huge variations in quality, mostly due to the use of improper brandy.
Rose Ports are produced from the same grapes as the red Ports, but with a shorter contact to the skins and with fermentation at lower temperatures.
Bright red colour. Fresh cherries on the suprising intense bouquet. Fresh-fruity palate with cherry and some milk-chocolate. Very solid for this type of Port. 16